Paint Protection Experts
Now the winter is gone, the rainy season is upon us which can be quite detrimental to the paint of your cars. Heavy showers have already started happening in different areas of the country. Though the weather might not be a challenge to us, it's not good for our cars. 
You would have to do whatever it takes to protect your paint this season. You might have been looking for ways for paint protection but to no avail. We are going to show you some tips you can follow to protect your paint. 
Tips For Car Paint Protection
Give your car a good coating
Give your car a good coating of wax to protect its paint before the rainy season kicks up properly. The function of the wax is not to let water settle on or touch your car paint preventing color fade or rust. Also, your car stays free of contaminants which affects the paint and these contaminants are found in the rainwater. 
Cover your car with a car cover 
This is one of the easiest means of protecting your car from rainwater. You can get a car cover that fits your car properly and then park the car in a closed area and cover it with the car cover. 
This cover will cover those spaces where water takes long to evaporate, which increases the rate of corrosion. You should avoid getting a normal car cover for your car as they stick to the car after it rains and when you take out the cover it can cause serious damage to the car exterior.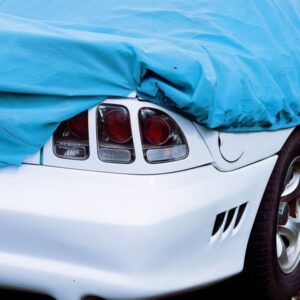 Use rain repellents
You can also use rain repellents to shed rainwater off your car body or windshield. These rain repellents shed water off your car by dispersing it quickly off the body thereby reducing fogging or even condensation. You can get different paint protection film from Monumental Workx to give your car full protection.
Conclusion
Your car is an important factor in the day-to-day running of your daily life. It is in your best interest to keep the car properly maintained and take every necessary step to ensure that your car doesn't suffer any damage.
Contact Monumental Workx Today to protect your car from harsh weather! Call us at (858) 291-8200!